Groovy Discord Bot is the most frequently used bot that is used by Discord users around the world. it is very important to play good music while using Discord so that you can enjoy better. You even get an opportunity to share your favourite music with your loved ones. With Groovy Bot on your Discord server, you can easily play your favourite music. So, here is the complete package of letting you know the procedure behind the same.
What is Groovy Discord Bot?
Groovy is one of the best methods to play music on Discord. It gives you a lot of features so that you can enjoy the music to the fullest. You also do not need any kind of signup for this Bot and comes with a lot of handy features.
Benefits of Using Discord Groovy Bot
There are various benefits of using Discord Groovy Bot that are not found in any other app. For this, you need to look for the benefits listed below and you will definitely be shocked and amazed to see it. Now, some of these benefits are as follows-
Groovy Bot is one of the stable music bots that is fit for Discord.
Groovy Bot does not require you to sign up hence; you can enjoy music without any trouble.
It is extremely easy to use Music bot.
Groovy bot comes with quite a lot of features.
You will be able to change the bot's output volume very easily.
It supports different audio effects like Bass boost, vaporwave, nightcore and various such others.
How to add Groovy to Discord?
Adding Groovy to Discord is fairly easy, you just need to perform a few tasks to get it attached to Discord. To do this, you need to make sure to follow each step with utmost attention. So, follow the steps given below to add Groovy to Discord.
Step 1:First of all, you will need to go Groovy.bot website.
Step 2:On the website, you will find an "Add to Discord" button. Simply click on it to add the bot to your Discord server.
Step 3:Then, do follow all the screenshots and give Groovy access to your account and select the server where you want to add the bot.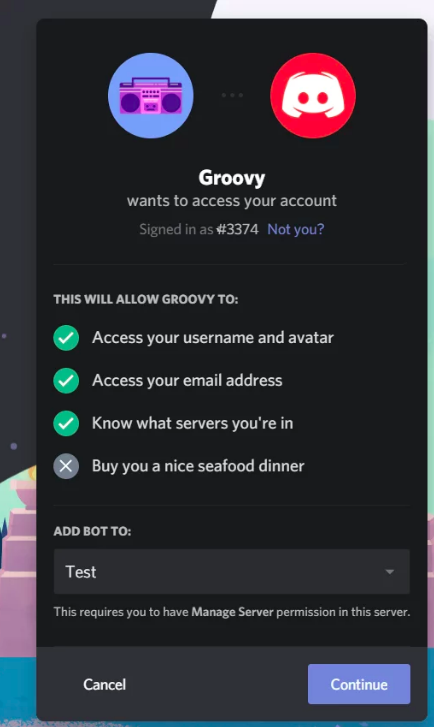 Step 4:Next, you will have to authorize your action, and you are all done.
In this manner, Groovy will be added to the Discord without any trouble. You will not face any problem while performing any of the steps mentioned above.
How to use Groovy Bot?
You need to follow the steps given below to use Groovy Bot to Discord. It is very easy to use Groovy Bot to Discord and you will not require any other thing but just follow the steps mentioned below to effectively use Groovy Bot. To do this, you need to do the following-
Step 1: To start using the Groovy Music bot, you will first need to join a voice channel.
Step 2: After that, you will need to use the –play command to tell Groovy to play a song.
Step 3: Once you do so, the music bot will automatically go ahead and join your voice channel and start playing your requested song.
Thus, your Groovy Bot is attached to Discord. Also, make sure that you follow each and every steps so that you do not have to face any problem in using Groovy Bot.
How to Play Spotify with Groovy Bot?
Spotify has become one of the best apps that is used by users these days to play their favourite music. But, you need not worry at all because you can even add Groovy Bot to Spotify too. For this, you need to follow the steps given below which are fairly easy. Now, make sure to follow each and every step carefully to play spotify with Groovy Bot easily. To do this, follow the steps mentioned below-
Step 1: At first, go to Spotify and select the song that you would like to play with Groovy Bot.
Step 2: Next, click on the more button and go to share and copy the playlist link.
Step 3: Now open up your discord server and paste the link followed by –play command. So it will look something like https://open.spotify.com/playlist/37i9dQZF1DXc2aPBXGmXrt?si=HqvlnTUWQsCtQG9jMTGfmQ –play.
List of Groovy Bot Commands
Now, there are various Groovy Bot commands that play a crucial role and will enable you to use the Groovy Bot more conveniently. Some of them are listed below-
Play: with this command, you can play any song through the link or search query you've entered from Spotify or YouTube. Click Enterto start playing.
Shuffle: through Shuffle, you can randomize the tracks added in a queue.
Queue: speaking of Queue, use this command to view all the available tracks in your queue.
Resume: you can resume playing the track which was paused.
Pause: pause any song currently playing by using this command.
Bass boost: if you want to add more bass to the songs being played, you can boost it with this command. Inputting Reset will set the volume back to default.
Nightcore: this is another cool feature through which you can enable nightcore mode for a more ambiance effect and similar tracks.
Other commands are as follows-
-play
-play file
-next
-back
-clear
-jump
[track position or title]
-loop track
-loop queue
-loop off
-pause
-resume
-remove
[track position or title]
-remove range
[start], [end]
-disconnect
-shuffle
-song
[song]
-song
-24/7
-bass boost
[amount]
-volume
[new volume]
-speed
[new speed]
-pitch
[new pitch]
-nightcore
-vaporwave
-reset effects
-fast forward
[amount]
-rewind
[amount]
-search
[query]
-seek
[position]
-stop
-move
[track], [new position]
-saved queues
-saved queue load
[name]
-saved queue create
[name]
-saved queue delete
[name]
-saved queue share
[name]
-prefix
-prefix
[new prefix]
-announce
-perms
-perms
[role/user]
-perms
[deny/allow/clear] [role or user], [permission]
Groovy Bot Not Working
Sometimes, you are encountered with a lot of problems while using Groovy Bot. But you do not have to worry at all if your Groovy Bot is not functioning properly. We have listed down a few of the ways, by which you can easily get rid of the issue. To do this, follow the steps given below-
The first thing that you need to check if Discord is having any kind of issues or not. To check this, you can simply go to Discord's status page.
The second thing that you need to make sure is whether Groovy bot is online or offline. In case if the bot is offline, then there is something terribly wrong happened. So in this case, you will need to contact Groovy support, and they will help you out.
Discord also might not work if you are not using the correct prefix. So if you type @Groovy prefix and the bot responds, then your server's admins have set a server prefix. You must use this prefix instead of the default one.
If still you are facing any problem, then the only possible solution is to contact Groovy Support. Go to the https://groovy.zendesk.com/hc/en-us website, and over here, you will find different help articles that will help you to fix the problem. You will get options to contact Groovy and get your issue resolved.
Conclusion
So, these are some of the details regarding Groovy Bot and how you can use it with Discord and get an amazing experience out of it. Now, all the information is listed in the article. But still, if you want to know any further information or you are not able to solve any such issue related with Groovy Bot, then you do not have to worry. You can easily contact with the customer care services that will definitely let you know the steps to get rid of the error you are facing so that you can enjoy the Groovy Discord to the fullest.