Undoubtedly, Destiny 2 is one of the most popular games in the market. But as you know nothing stays hidden for too long. Similarly, the community of gamers have unearthed a variety of errors that they can cross paths with, while playing their favorite game Destiny 2. Destiny 2 requires you to be online and connected to the servers, so sooner or later, you will bump into these errors. Unfortunately, these errors stop them from being able to thoroughly enjoy this first person shooting game.
One of these errors is known with the error code: Baboon and this error has been a pain for most players. But you don't have to worry about this error if you know how to handle it. Do you wanna know how to fix this error ? Keep reading down below and we'll tell you how.One of these errors is error code Baboon and has caused plenty of trouble for players. Fortunately, we have everything you need to know to address error code Baboon if you encounter it when playing.
Error Code Baboon
Gamers researched and developers have confirmed that the causative reason behind the error code Baboon is the disconnections or packet loss behind a player's home and Bungie i.e the server. This usually happens when the Wifi setups or mobile hotspots experiences a blip or lack of connection. According to Bungie, to fix this, gamers should initially switch from a wireless connection to a wired one. In case, you are already established with a wired connection or the switch from wireless to wired doesn't work, force quit the game and restart it entirely.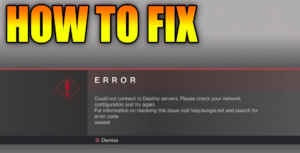 For the gamers who are not familiar with how to force quit Destiny 2, here's how you can do it.
If you're playing Destiny 2 on Xbox 360:
1.Press the Xbox Guide button.
2.Press the Y button to return to the dashboard
Xbox One
1.In the game or app, press the Xbox button.
2.Verify that the big application tile is highlighted, and then press the Menu button.Select "Quit".
PlayStation 3
1.Hold down the PS button.
2.Select "Quit Game".
3.Select "Yes".
PlayStation 4
1. Hold down the PS button.
2. Select "Close Application".
3. Select "Yes".
These two fixes should resolve this problem and get you back to playing the iconic title in no time at all.
If these two methods don't work out for you, you will have to look into your NAT type and make sure, it stays open. Furthermore, you'll have to contact Bungie for technical assistance because Bungie actively tracks this general networking error. Your disconnect to the servers, the moment it occurred.
Read Other Blog: Error Code XRE-03007